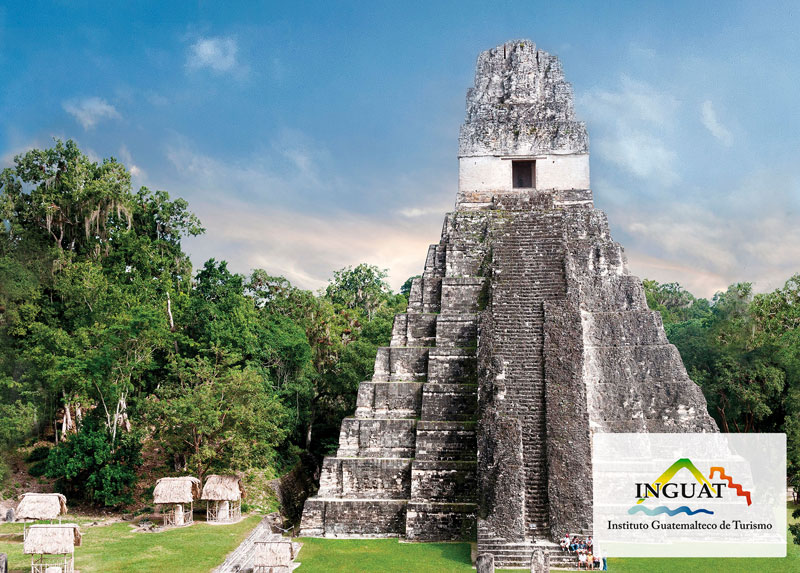 Natural Paradise in the Heart of the Mayan World
Flora, fauna, lakes, volcanoes, archeological sites, beaches, streets and avenues, filled with history are some of the natural and cultural treasures that Guatemala offers its visitors and that can describe wonderful and unforgettable experiences.
The cultural and natural wealth of Guatemala impresses: it is one of the 19 mega-diverse countries in the world where 33% of the territory are protected areas. It has more than three thousand archeological or historical sites, three of them declared World Heritage Sites: Antigua Guatemala, Tikal National Park and Quiriguá Archeological Park.
Heirs of one of the most important pre-Hispanic cultures in the Americas, which legacy lives and is with us to this day, converge here with the Maya, Xinca and Garífuna cultures.
The broad range of specialized tourism products is divided into 11 segments: culture, nature, adventure, volunteer work, language tourism, cruises, entertainment, sports, weddings, honeymoons, health and wellness, congresses and conventions, which allows us to offer complete experiences.
Constant evolution
A fundamental and essential part of the tourism supply from Guatemala is cultural tourism, through which it is possible to take trips that are of mystical and religious character, preColumbian archeology, tourism with community management, tourism of colonial cities and historic centers, as well as the experience of the Maya living culture.
According to the Guatemalan Tourism Institute (Inguat), cultural tourism has significant economic impact in the country, since it offers an opportunity to diversify and innovate with products according to trends and current demand for international tourism.
Guatemalan gastronomic tourism stimulates local, regional and national economies, enriching the cultural value of tourist destinations.
Medical and well-being tourism, where the traveller is looking to reduce stress, have body and thermal treatments, yoga sessions and procedures to enhance their beauty; it is another one of the big segments where the country has grown.
More and more couples long to marry in the archeological and historical churches and sites with natural surroundings, and Guatemala has much to offer in wedding tourism.